All you need to know when planning your Laundry Renovation
Have you been inspired by our new Laundry collection and now want to renovate your laundry but have no idea where to begin?
We've got you covered.
We've put together some helpful tips to get you started on planning your new Laundry!
---
How do you use your space?
Is your Laundry a one stop shop for the all family's washing? Could a hidden hamper help tidy this up?

Do you need to store the kids sporting equipment or the dogs Christmas costume, could a tall cabinet or drawers help?

Is your Laundry a separate room or part of the garage – could wall to wall layout work or do you need an open end?
Choose A Style
Have a look at the style in the rest of your house, we recommend carrying your design from the bathroom or kitchen into your Laundry for a cohesive feel throughout the home.

Don't be afraid to be bold! Laundries don't have to be all white! We love The Viaduct package for a modern minimalist feel.

Do you have gorgeous plants or colourful towels that you would like to keep on display, our open shelves let you incorporate these into your laundry style.
---
---
---
One of the most important steps in the laundry renovation process is ensuring you get correct measurements for your space.
To help with this we've put together a helpful list of things to measure so you can be sure you're not forgetting anything important.
What to Measure
The size of your washing machine and dryer. This one seems obvious, but it's always best to check how much room you need for these, as dimensions can vary greatly between models.

Wall-to-wall. You want overall measurements of the entire room. Don't forget to allow for tiles if the walls haven't been tiled yet.

Floor-to-ceiling.

Size and location of doors and windows. Also note how much room they need to open. Will you be able to fit in wall cabinets or do you need only floor?

Waste and/or pipe positions.

Location of existing and future power points and light fixtures.

Are your walls level/flat – will you need a packer to get a smooth finish

Any other room features, like radiators, roof access points, etc.
---
Now this is where the fun starts!
Choose from one of our 8 pre-designed packages or select from our modular components to create a personalised design for your home.
Our 8 expertly designed packages have the options of wall-to-wall or corner design which will work in almost all spaces – select from 7 different cabinet colour finishes, two Quartz tops options, even upgrade the handles and tap!
Our Modular system gives you the flexibility to design something truly unique for your space. Select from wall cabinets, drawers, laundry hamper, cupboards and open shelves, to name a few! The options are endless! Contact us to have a virtual consultation with our experiences sales consultants to discuss this option further.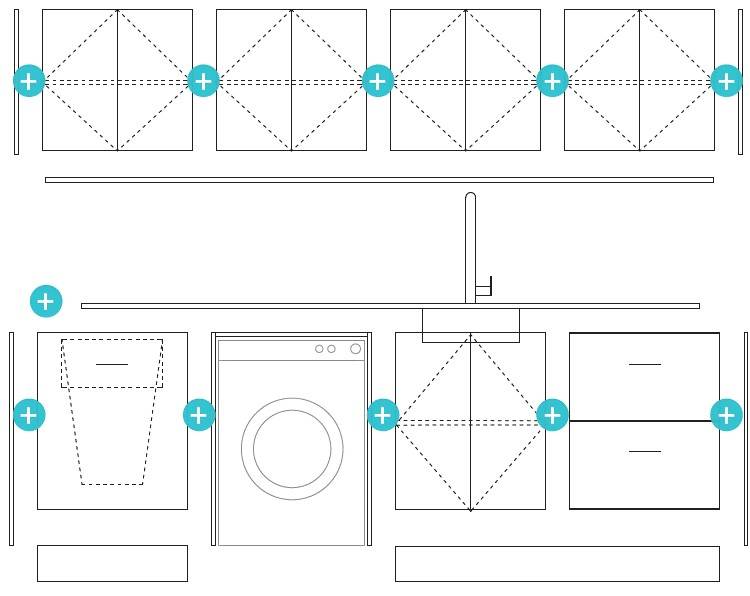 All of our Laundry Collection is Made in New Zealand and as such we have named our 8 expertly designed packages after New Zealand locations that reflect their designs.
Arrowtown named for the warm brown tones of the fallen leaves, Southern Alps named for vast white mountain peaks.
Our New Zealand inspiration will hopefully inspire you to get those creative juices flowing and create the bathroom that best suits your kiwi home!
View the full Laundry Collection here